This incident occurred when an instructor flying a Hobbico
Avistar was playing a little game of chase with his student that
had soloed on September 14th, who was flying a Carl Goldberg
Heritage Series Skylane 62. As both pilots were turning base
for a pass over the runway, the planes collided. Judging from
the damage, the impact ripped the engine off of the Avistar,
flinging it back, smashing the fuselage, and tore the left wing off
of the airplane. The prop also decided to cut into the top
portion of the Skylane's wing. The landing gear tangled
together, causing the airplanes to tumble to the ground as one.
The Skylane landed on top of the Avistar in a patch of
waist-high soy bean bushes. After a few minutes of searching
with transmitters in hand listening for servo movement, the
pilots past the wreckage, allowing a 3rd pilot, who was in the air
on the crosswind leg turning downwind at the time of the
collision and landed to assist in the search and to take pictures,
saw a dimple in the bean bushes, proceeded to walk closer to
find the airplanes still tangled together. The left wing of the
Avistar was never found. The Avistar is a total loss, while the
Skylane will fly again. Enjoy the pictures of the incident!!!!
Both pilots surely did!!!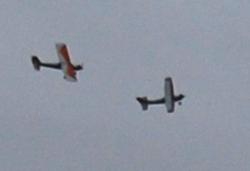 The Avistar Chasing down the Skylane just seconds before the collision.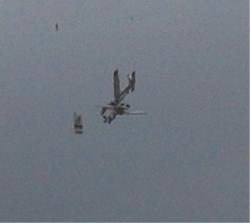 Just afterl impact. Note the left wing
of the Avistar falling separately.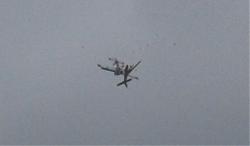 Initial impact.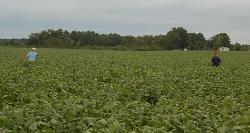 Both pilots searching for the wreckage.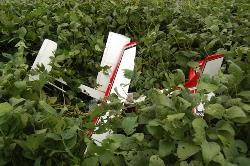 The wreckage, as it was found.

Click on the image to enlarge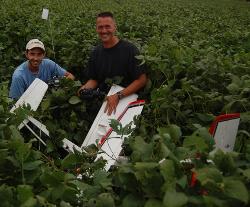 The pilots at the crash site.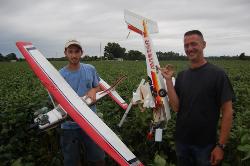 Showing off their carnage.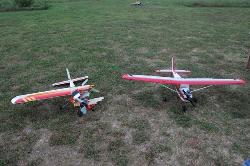 The planes after surveying the damage in the pits.